Readers, you are in a for a real treat this week, but here's a warning - get out your hankies!
Author Tim Wohlforth (
http://www.timwohlforth.com/
) has agreed to share his heartwarming short suspense story, "Sophie" with us!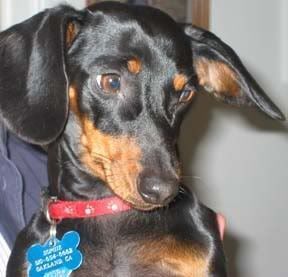 This is a fitting story as Tim and his wife have owned their own Sophie (see photo) for about 3 1/2 years.
Tim says they came to own their 6 1/2 year old dog in a somewhat similar (though less heartbreaking) manner as in the story. Tim says his wife was driving in a rather "plush" area (not like the one in the story) near a dog park they go to. Lying right in the middle of the street was Sophie. Her dog tag only had a phone number, so they took the dog home and called the number.
The owner showed up and explained that the gardener had inadvertently let her out. They had to leave her alone much of the time while they worked and hadn't really toilet trained her, so they offered Tim and his wife the dog.
Sometime later while traveling near Bend, Oregon, Tim came across a report on a puppy mill there (different breed) overrun with dogs, some so poorly bred that they had deformations, all half-starved, the house a total mess, etc. The ASPCA had to try to place almost 100 dogs. He combined the two stories and wrote a suspense story. "Sophie" was originally published in FUTURES Mysterious Anthology Magazine. The story was nominated for a Pushcart Prize in 2003.
* Author Tim Wohlforth has had dozens of short stories published online, in magazines and in anthologies. His story, "Jesus Christ Is Dead!," made the "Distinguished Mystery Stories" list in Otto Penzler's 2005 Best American Mystery Stories. One of his stories was chosen for inclusion in the Mystery Writers of America's Death Do Us Part, edited by Harlan Coben and published in August 2006 by Little Brown. A "Crip and Henrietta" story was published in a Plots With Guns anthology. His story, "Juanita," will be published as part of the upcoming Best of ThugLit to be published by Kensington.
A contemporary noir novel, NO TIME TO MOURN, was published by Quiet Storm. He co-authored the non-fiction book, On The Edge: Political Cults Right and Left, published by M.E. Sharpe. *
See the next post to read the gripping story, "Sophie."